In the spirit of the Singapore Together movement, SFA invited industry representatives and members of the public to join SFA in co-creating our vision for Lim Chu Kang. This initiative is part of our ongoing efforts to invite stakeholders to share their views and ideas on how we can raise food production in a sustainable and resource-efficient manner in support of the Singapore Green Plan 2030.
From May to October 2021, stakeholders will come together in a series of engagement sessions to identify and discuss ideas to redevelop Lim Chu Kang into Singapore's flagship agri-food production hub of the future that is vibrant, innovative, sustainable, and accessible to all.
Phase 1: Stakeholder Consultation
Over four sessions from May to June, over 300 stakeholders from different professions, industry and backgrounds such as farmers, educators, nature groups, solution providers, ecosystem players, members of the public and public officers gathered online to exchange views and ideas on Singapore's food security and the Lim Chu Kang master plan. The sessions were helmed by Ms Grace Fu, Minister for Sustainability and the Environment, and Mr Desmond Tan, Minister of State for Sustainability and the Environment.
Around 300 participants came together over four online sessions to discuss Singapore's food future and the Lim Chu Kang master plan.  
Participants were asked to identify the opportunities and challenges in securing Singapore's food future and how Lim Chu Kang could contribute towards Singapore's food security.  
A) Balancing different needs and priorities
With only about 1% of land set aside for agriculture, participants recognised that there were competing needs for land use. To ensure Singapore's food security, participants acknowledged that food production would have to be prioritised for food security.
Notwithstanding, participants highlighted environmental sustainability as a key consideration and that we should develop Lim Chu Kang sensitively so that food production is not at the expense of the environment. For example, farms' carbon footprint should be taken into consideration so that the redeveloped Lim Chu Kang does not result in increased pollution or degradation of the environment.
Opportunities to incorporate environment conservation, education and community outreach, to develop Lim Chu Kang into an attractive place to work, play and learn were also discussed.
In terms of food production, participants suggested prioritising selected food types based on nutritional value and resources needed to grow them, instead of producing a diverse range of food types.
B) Building a shared and sustainable ecosystem
Participants felt that there was an opportunity to develop an end-to-end ecosystem in Lim Chu Kang, with supporting infrastructure and peripheral industries in the vicinity. Shared facilities could be situated within Lim Chu Kang to reduce the cost of resources such as water and power.
The importance of sustainability in food production methods was raised and participants suggested establishing a circular system that would reduce resource use and waste.
They also suggested earmarking Lim Chu Kang as a space where different generations of farmers can share their knowledge, skills and experience. While participants discussed the merits of different farming methods, they felt that farms should adopt the method or technology that utilised less resources while being more efficient and sustainable.
C) Enhancing the vibrancy and accessibility of Lim Chu Kang
Participants highlighted the importance of improving the accessibility and connectivity of Lim Chu Kang.
They also suggested enhancements to infrastructure for water and electricity to support high-tech and productive farming systems.
Participants felt that Lim Chu Kang could be positioned as an attractive location that offers accessibility, connectivity, food options and activities to cater to the different interests of Singaporeans.
D) Building capabilities and capacity
Participants noted that while we grow our produce locally, some of the raw materials such as seeds are still largely imported. There is hence a need to strengthen the supply resilience of these raw materials.
To enhance food production, participants suggested for Lim Chu Kang to house R&D centres and that we create a sandbox for businesses to test-bed their innovations and ideas.
Participants also shared possibilities for technology and innovation to help farmers increase their yield. For example, the agri-food industry could conduct research on seeds to facilitate high intensity growth or high-density cultivation of crops.
E) Public education about local produce and rebranding the farming industry
The challenge of ensuring demand for local produce was raised and participants suggested that Lim Chu Kang could play a role in increasing awareness of local produce and educating the public on our food sources.
Participants also highlighted the need to change how the farming industry is viewed in order to attract and encourage youths to take up a career in agriculture. They discussed ways to excite the younger generation to join the industry and suggested how transforming the industry could brand and place Singapore's agri-food sector on the world map.
Read the full report here.
Phase 2: Consensus Building
Following the conclusion of Phase 1 discussions, SFA invited participants to continue the Lim Chu Kang Master Planning journey with us and further contribute their ideas in Phase 2 of the Stakeholder Engagement series.
The three sessions which spanned over the month of July 2021 were designed to allow participants to deepen the discussion of key themes drawn from the earlier conversations in Phase 1. Mr Desmond Tan, Minister of State for Sustainability and the Environment, joined the discussions, which involved about 150 stakeholders from different professions, industries and backgrounds.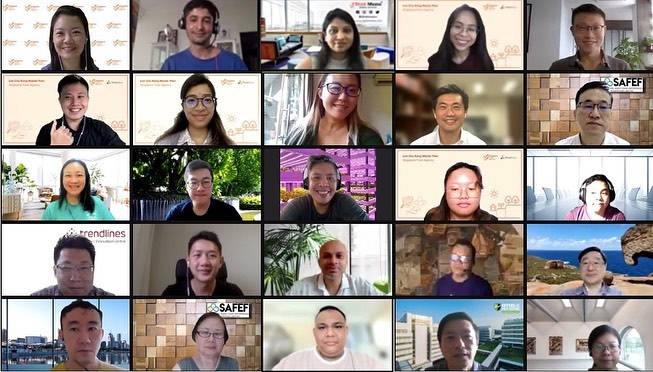 Participants deliberated over how Lim Chu Kang could be redeveloped into Singapore's flagship agri-food production hub of the future that is vibrant, innovative, sustainable and accessible to all, and five common themes from Phase 1.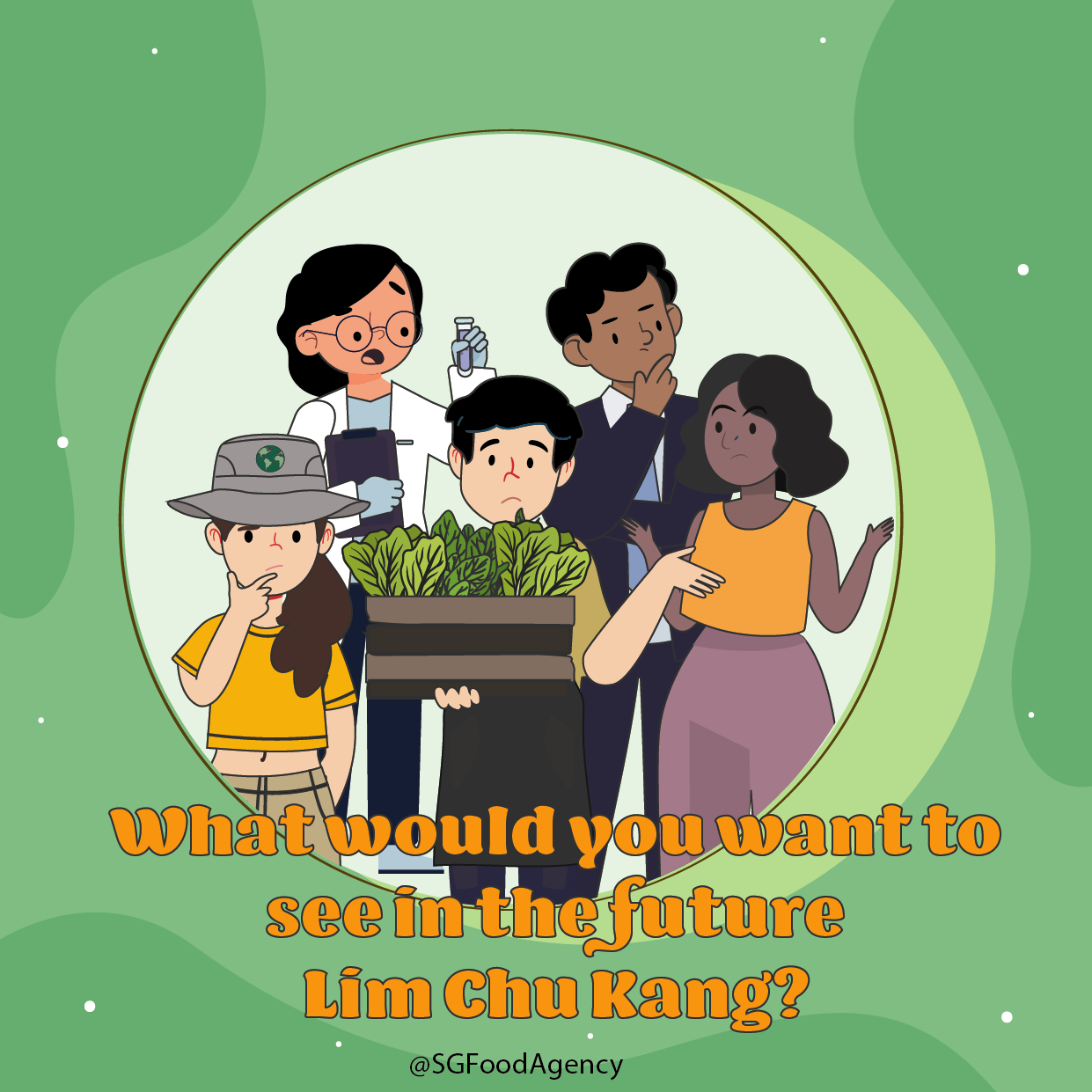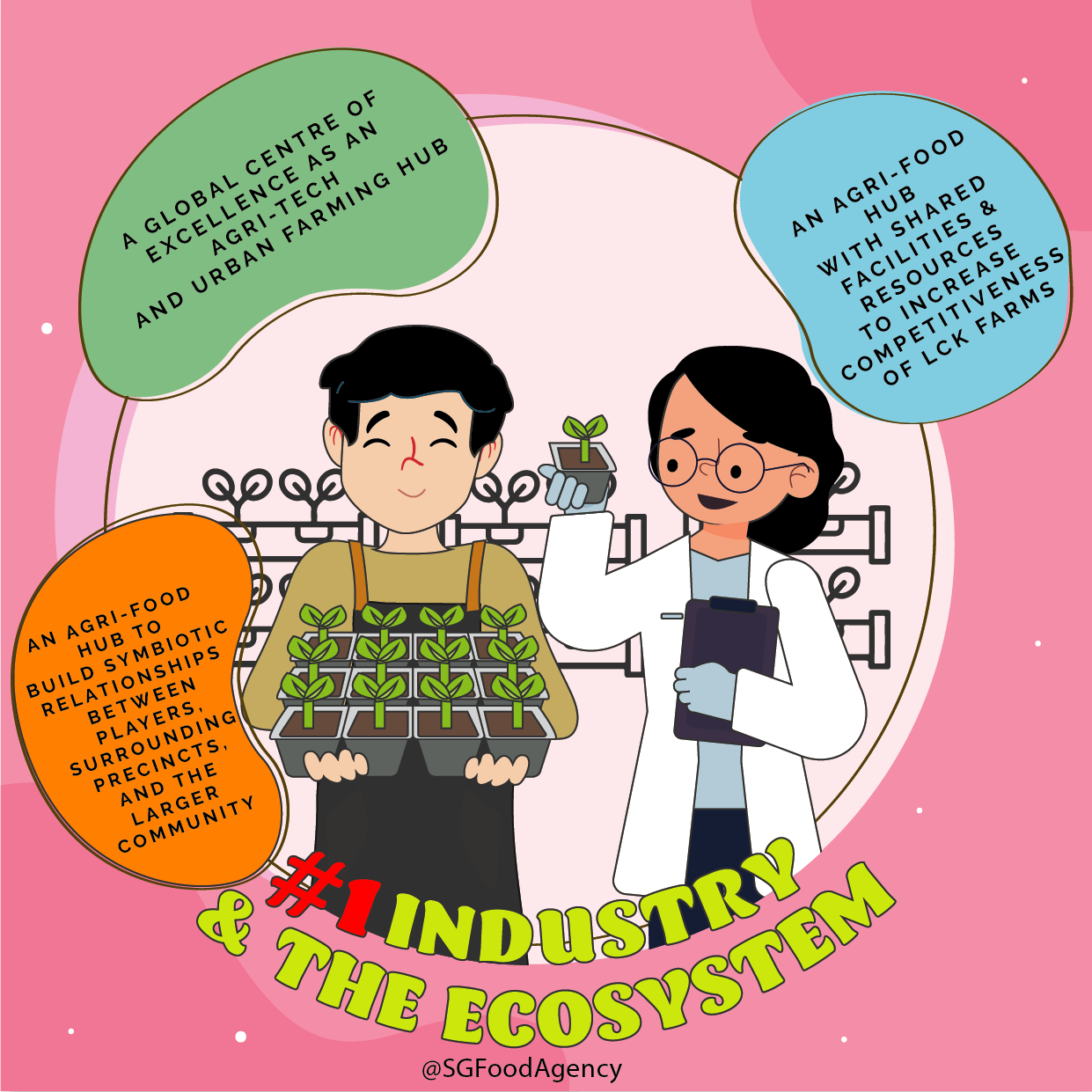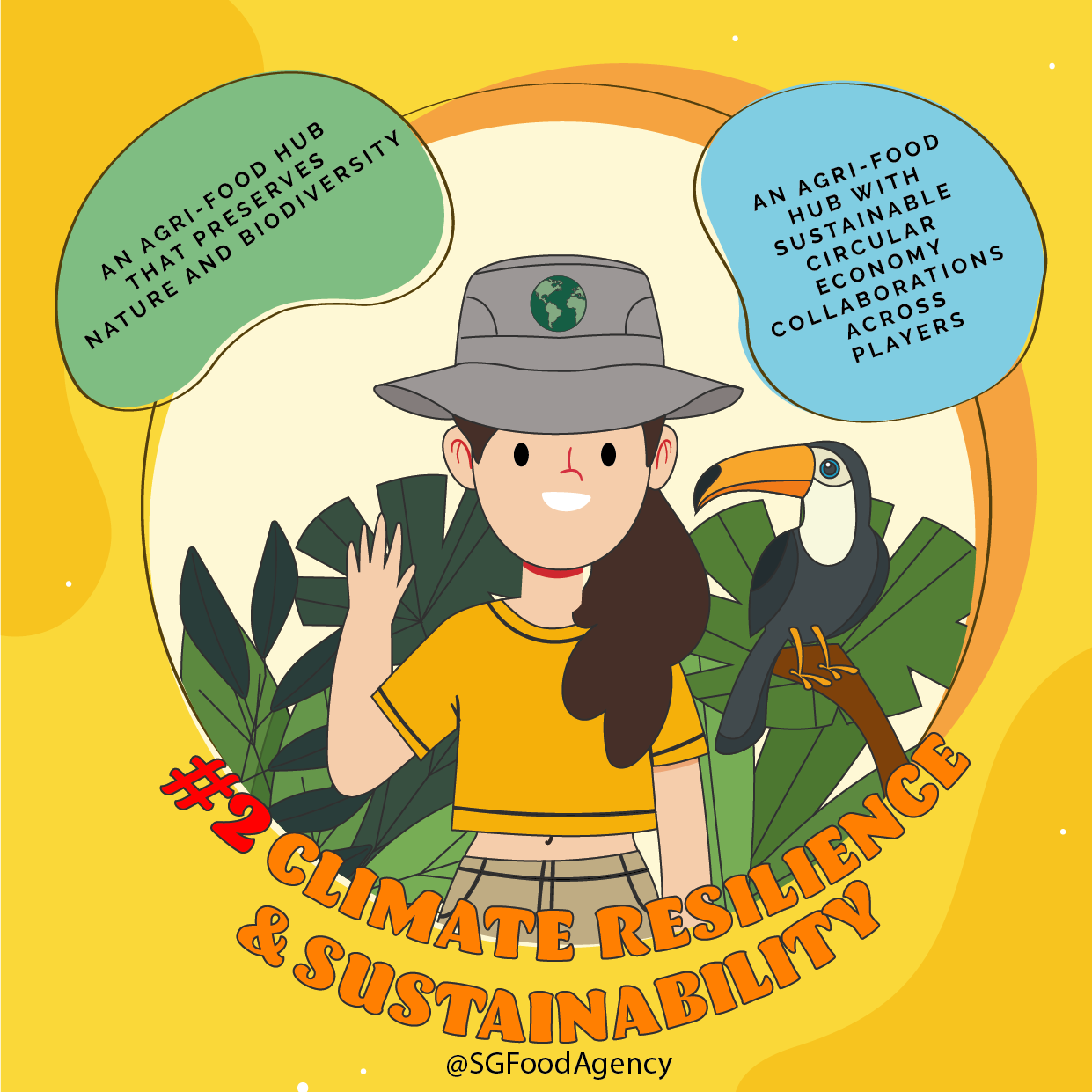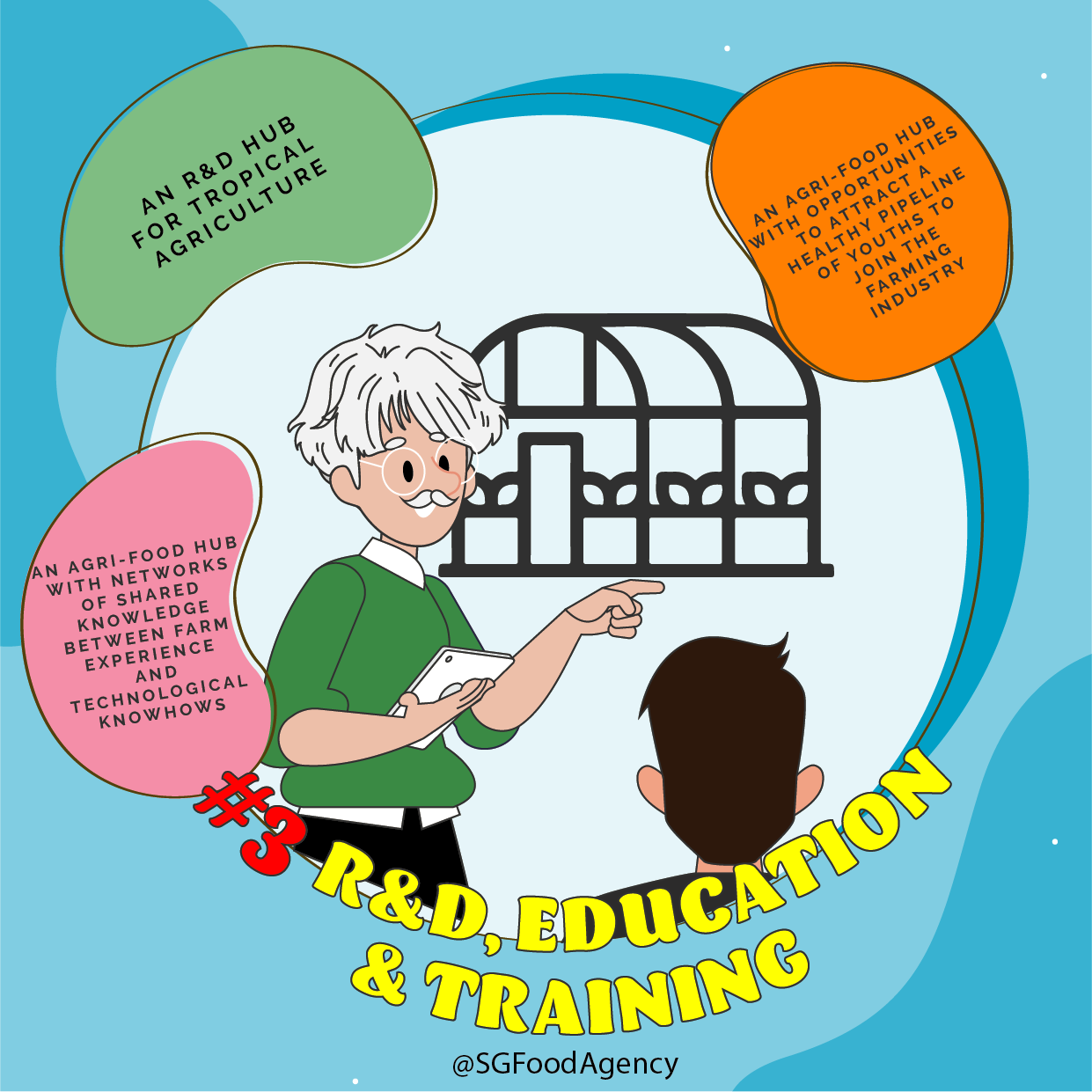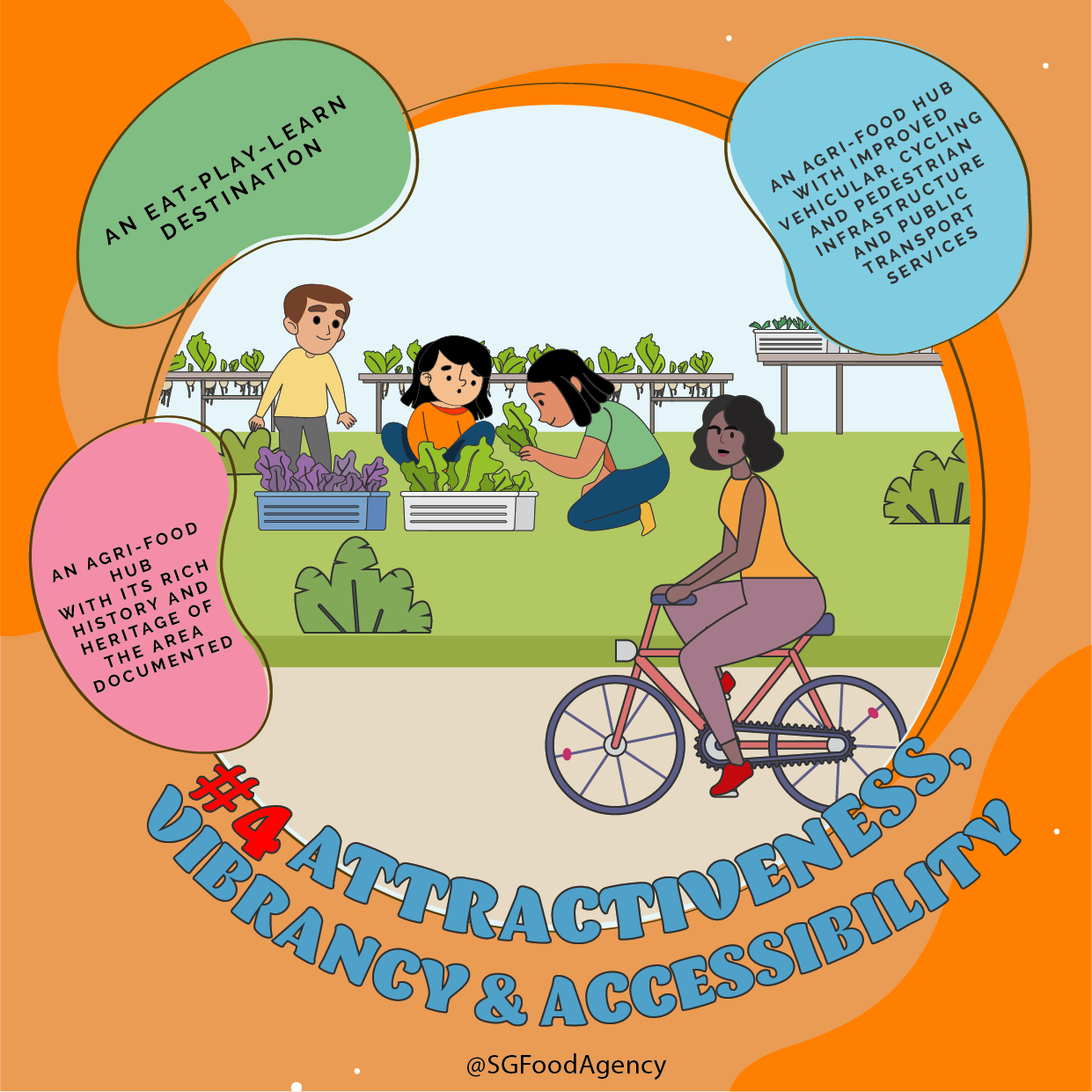 Read the full report here.
Phase 3: Co-creation
In Phase 3, selected participants will be invited to work in dedicated groups to deepen their ideas and develop solutions. They will go through four rigorous sessions of problem framing, envisioning, testing and prototyping on the 4 'Es':
Environment
Experience
Engagement
Economics Collectively, these four 'Es' make up a fifth 'E' – the Lim Chu Kang Ecosystem.
Participants will present their recommendations to Minister Grace Fu and Minister of State Desmond Tan at the final session in October 2021. Feasible ideas will be incorporated into the master planning consultancy study that will be launched later this year.
What would you want to see in the future Lim Chu Kang?
While the call for participation for our Lim Chu Kang Master Plan stakeholder engagement sessions has closed, you can share your ideas and suggestions with us at go.gov.sg/lckmpideas.
You can also visit SFA's Facebook page to share your views on the ideas that our Phase 2 participants have come up with!